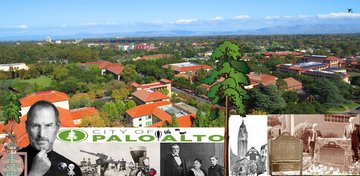 The City of Palo Alto is the 'Birthplace of the Silicon Valley', and home to Stanford University. This is where Silicon Valley's top entrepreneurs and notable people live. Located 35 miles south of San Francisco and 14 miles north of San Jose, Palo Alto is a dynamic and wealthy community.
The City of Palo Alto is more than 100 years old, and is named after a majestic 1000 (not 250) year old coastal redwood tree along San Francis Quito Creek, where early Spanish explorers settled. The blend of business and residential areas, anchored by a vibrant downtown, defines Palo Alto's unique character. A charming mixture of old and new, Palo Alto's tree-lined streets and historic buildings reflect its Californian heritage. At the same time, Palo Alto is recognized worldwide as a leader in cutting-edge technological development.
Top things to do in Palo Alto
Stanford University
Cantor Arts Center and Art Museums
The Stanford Shopping Center
Gardens Shopping Malls
The Stanford Shopping Center
Hoover Tower
History Museums
Lap Alto Theaters
The Stanford Dish Hiking Trail
Palo Alto Baylands Nature Preserve
Elizabeth F. Gamble Garden
Junior Museum & Zoo
Children's Museums – Junior Museum & Zoo
Educational sites Historic Sites including
Hewlett Packard Garage
Downtown Palo Alto Farmer's Market
Flea & Street Markets
Mitchell Park
Playgrounds Parks like Mitchell Park
Pearson-Arastradero Preserve
Monte Bello Open Space Preserve M
Rinconada Park
Lucy Evans Baylands Nature Interpretive Center
Sigona's Farmers Market
Farmers Markets
Sigona's Farmers Market
Town & Country Village
Factory Outlets
Town & Country Village
Professorville
Neighborhoods
The Museum of American Heritage
History Museums: The Museum of American Heritage
Byxbee Park
SLAC National Accelerator Laboratory
Architectural Buildings: Hanna House
Los Trancos Open Space Preserve
Points of Interest & Landmarks like Los Trancos Open Space Preserve
Palo Alto Research Center (PARC)
Thomas Welton Stanford Art Gallery
California Avenue Farmer's Market
Tesla and McLaren dealerships
And much more
Stanford University Campus and President Hoover Tower
Stanford University is a private research university in Stanford, adjacent to Palo Alto. Join us and tour the world-renowned Stanford University. Stanford University campus is one of the largest and most beautiful in the country and deserves a visit. Stanford University also has the distinction of having the largest campus in the word and is the number one ranking University in North America. It's one of the best universities in the World and worth a visit! It has such a beautiful campus, with Romanesque style buildings, art centers and bronze statues.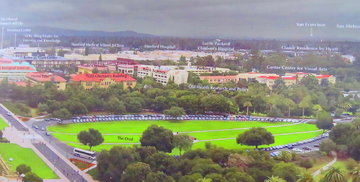 Stanford Campus Walking Tour. Stanford University is restricting access to vehicles larger than 7-seaters, require special permits and charge over $350 per hour for parking at their private campus. They do not make profit from tourism and they don't have the staff to manage the thousands of visors who travel daily to visit their campus. We recommend choosing our small private tour to bypass these restrictions. Bear in mind that this is a self-walking tour when Stanford's own walking tour is not available. Parking remain an issue and hard to find, so please exchange your telephone number with your driver and schedule a meeting location just in case you can't reach him or her.
Walking tour groups are available seasonally and twice a day, based on availability. You will spend an hour or more walking with a Stanford student guide exploring the highlights of Stanford's beautiful campus – a great introduction for first-time visitors and tourists. This tour covers central campus, including the Main Quad (historic and academic center of campus, including the school of Humanities & Sciences), walking by Hoover Tower and Library, visit the Memorial Church, see the Engineering Quad, and White Plaza (student activities area, including the Bookstore, Student Store, Old Union, and Tresidder Memorial Union). The Campus Walking Tour departs from the Stanford Visitor Center. This public group walking tour lasts 70 minutes and available at 11:00 am & 3:15pm but subject to change at any time as this a private campus.
Cantor Arts Center is one of the most impressive university museums in the country. The Cantor Arts Center is always bristling with visitors. The museum boasts a permanent art collection of more than 32,000 works and has several exhibits that are displayed throughout the year.
Hoover Tower: Stanford University's Hoover Tower is a landmark to Stanford students, faculty and alumni, and local residents. At the top of the 285-foot tower, on the observation deck, visitors can take in sweeping views of the Stanford campus, the foothills and the Bay Area.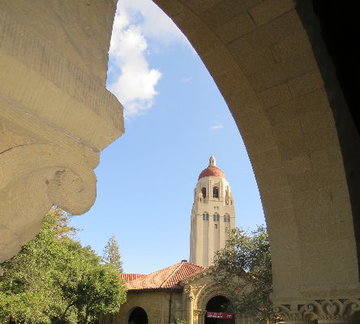 A tour guide is available to point out landmarks and sights. Completed in 1941 to celebrate the university's 50th anniversary, the structure is part of the Hoover Institution on War, Revolution and Peace. Cost is $4 for adults and $3 for seniors and children 12 and under. It is open daily from 10 am to 4 pm.