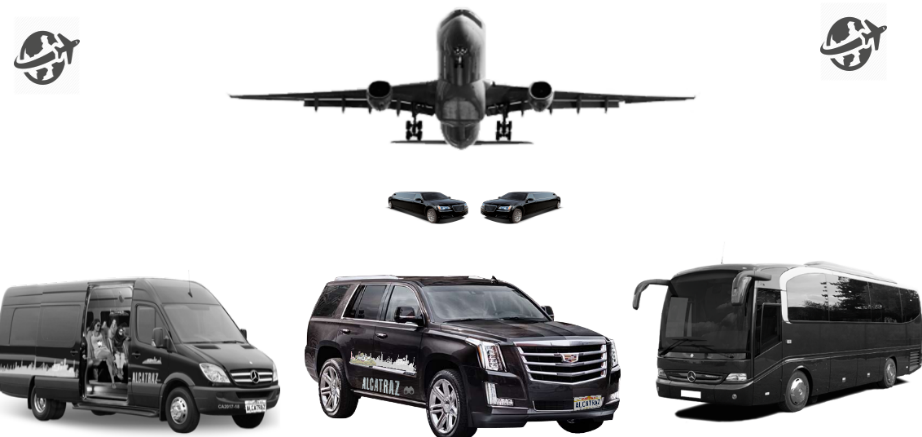 Oakland, San Jose and San Francisco International Airport Shuttle Services
We offer our clients who purchase tours and travel services through us, we offer them daily ground transportations in luxury vehicles from Oakland, San Jose and San Francisco International Airports to the City by The Bay, or vice versa. We also offer meet and greet and private custom tours in San Francisco Bay Area in 10 languages.
We understand how busy business and corporate travelers can be, so we have tailored a service to cater to this specific type of traveler. We offer convention and meeting services including setting up local ground transportation and tours for attendees. We have developed a customized online travel portal to handle all of your business travel needs.
As a San Francisco-based sightseeing tour operator and destination management agency, Alcatraz Tours Inc. provides corporate, convention and leisure travel and tour services. Please feel free to send us a request via our Travel Request Form or contact us for more details.
We offers international clientele complete corporate and business travel planning services that include convention packages and tours. Our staff is well-equipped with the experience and knowledge to assist you with your corporate and convention needs and exceed your expectations. Each package is designed to accommodate each unique client and we will assist with everything including working with your budget, travel dates and times, and itinerary. When it comes to planning business conventions or tours, we will make your experience smooth and seamless.
Our event management staff is capable of facilitating all events as requested by our clients. A dependable team of professionals orchestrates all event arrangements, including finding a venue, choosing menus for the catering portion, renting the necessary equipment and staffing (if necessary). Alcatraz Tours Inc. is indeed involved in every step of the way to ensure that your special event or convention is a success.
All our tour packages include access to all the most popular sights, reservations at the most celebrated restaurants, ground transportation, and the best accommodations based on your preferences. A Tour Director and Tour Guide will be assigned to each client and they will be on hand to assist from the moment you are picked up from the airport to when you depart to go home.
We are confident that we will exceed your expectations with our airport services, private tours and travel services. We respond promptly to every tour and travel request with a competitive quote estimated based on your desired budget and itinerary. Please be sure to include the number participants in your party, your preferred travel dates and your desired budget.
Other services include (but not limited to) the following:
- Reserving first class hotels
- Setting up transportation (A variety of options are available including luxury limousines, motor coaches, ferries, and car rentals)
- Dining reservations
- Guided tours, offered in more than 10 languages
- Escorted/Custom/Private tours
- Meeting centers
- Catering
- Exclusive Tours
- VIP Services
- Interpreters
Corporate Conventions